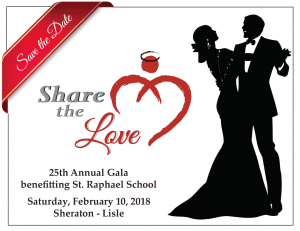 St. Raphael School invites the School Parents, Parish and Parent/Student/Faculty Alumni to celebrate with us at the 25th Anniversary School Gala.  Please Save the Date, Saturday, February 10th, 2018, and attend the SHARE THE LOVE Gala at the Sheraton in Lisle.  Tickets will go on sale soon!
GALA GRAND RAFFLE:  Grand Raffle tickets are now available for purchase!  You can support our school and have a chance to WIN!  Tickets are $100/each and only 500 will be sold.  The drawing will be held at the Gala 2/10/18 but the winners need not be present to win.  Grand Prize: $10,000, 1st Prize: $2,500, 2nd Prize $1,000 and 3rd Prize $500!  FACTS forms went home with the youngest child to purchase and are due December 22nd, 2017.  Tickets will be sold to the Parish after mass and at Donut Sunday on November 19th!  Or contact Cathleen Jaglin at cjaglinpt@live.com to purchase yours now.  Thank you for your support!
GALA AUCTION DONATIONS, SPONSORSHIPS & ADVERTISING AVAILABLE:  Would you or your business  be interested in making a tax deductible donation (monetary or auction item) or purchasing a Sponsorship or Advertising for the Gala?  You can download the Sponsorship Packet or contact Natalie Hill at nmhill1@hotmail.com or Anita Benton at anita.benton@outlook.com.  The Deadline is December 15th!
COOKBOOK ORDERS:  The 25th Anniversary Gala School & Parish Cookbook is being printed and we expect them to arrive by Thanksgiving!  You can purchase your copies for $20 on November 19th after mass and at Donut Sunday!  Preorder forms will be going home with the youngest child in November.