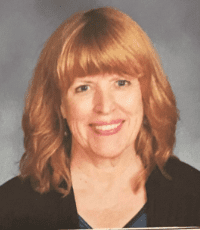 Mrs. Beth Pyskir: Early Childhood
Beth Pyskir graduated from college with a B.A. and an MEd. in Early Childhood Education. She spent seven years teaching Kindergarten and Second Grade in Georgia and in Germany. She has lived in Naperville since 2000 with her husband and children. Beth took time off to raise her 4 children. She volunteered at her children's school in a variety of capacities from lunchroom volunteer, library and Book Fair helper, classroom reading assistant, and field trip volunteer.
Beth Pyskir began teaching Preschool and Pre-K at St. Raphael in 2017. She loves the St. Raphael School family. Beth has a passion for teaching 3- and 4-year-old children. She has created a stimulating classroom and believes in a structured, nurturing and loving learning environment. Her focus in the classroom is to help children learn to cooperate with each other, develop social skills, and to explore their Catholic faith and identity. She guides them in developing their wonderful curiosity and creativity while teaching the academic skills they will need in Kindergarten.