Mission Statement 
St. Raphael School exists to provide an education rooted in the Gospel of Jesus Christ where Catholic Doctrine and values, and academic excellence prepare each student for a life of faith, service, and integrity.
School Philosophy
To achieve our goal of educating the whole child, St. Raphael School emphasizes the use of a planned curriculum which is sequential and based on the differing needs, learning styles and potential of our students.  We recognize the importance of each child's cultural background.  We believe in encouraging academic excellence, respecting ourselves and others, and taking responsibility for our actions.  St. Raphael School offers an atmosphere in which the teachings of Jesus and the principles of the Catholic faith can be learned and lived.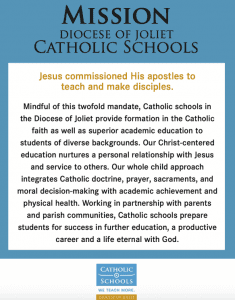 St. Raphael is a wonderful place to serve. Parents, students and teachers have each made a strong commitment to education and through this teamwork, we do make a difference in the lives of our children.