Home and School provides over $100,000 annually towards the operating budget of the school which helps keep tuition increases to a minimum. Fundraising dollars are also used to pay for some of the "extras" that our children benefit from such as library materials, technology, field trips, assemblies, retreats and the school picnic.
All-school major fundraisers include:
The Annual Gala
The Annual Gala is our largest fundraiser. This fun evening includes dinner, dancing and auctions. School families, parishioners, friends, and family are welcome to attend. Each school family is asked to buy or sell two $100.00 Grand Raffle tickets. Click here for more information.
Redwing Classic
Annual golf outing that takes place in August. You can attend as a golfer and/or sponsor a hole. Families personally invite family and friends to this wonderful event!
World's Finest Chocolate Sale
Boxes of chocolate are sold in September.

---
8th Grade Class Fundraisers: Plant Sale and Race to D.C.
The plant sale is coordinated each spring by the 7th grade class as the proceeds help offset costs for the incoming 8th grade class.  The annual Race to D.C. is coordinated by the 8th grade class.  Both fundraisers contribute to the 8th grade class trip to Washington D.C. and other graduation expenses.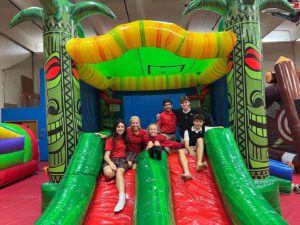 Family Fun Night