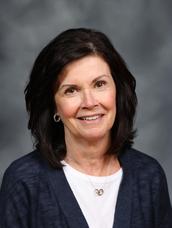 Mrs. Adrienne Jordan   : School Secretary
Mrs. Adrienne Jordan has been a parishioner of St. Raphael since 1998. She began substituting at St. Raphael in 2017 which led her to her current role as School Secretary. Mrs. Jordan has always had a strong belief in the importance of Catholic Education, and it continues as she observes the teachers and staff working directly with the students to instill these values.
Mrs. Jordan earned her Bachelor of Science in Business Administration from Marquette University and then began her career in sales at Central Steel & Wire on Chicago's southwest side. Mrs. Jordan and her husband, along with their children, moved to Greeneville, South Carolina and Birmingham, Alabama returning to Illinois five years later. In 1998 they settled in Naperville and chose St. Raphael School for their three children to attend. Mrs. Jordan became very active in Home & School, thoroughly enjoying her volunteer "career" at St. Raphael. She is thrilled to be working at St. Raphael School and truly enjoys the students, families and staff. Go Redwings!