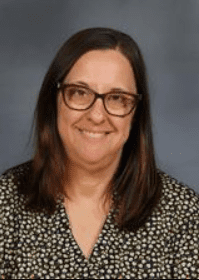 Mrs. Carol Held: Fifth Grade Teacher
Mrs. Held graduated from Western Illinois University with a B.A. in Communications and Minors in English and Journalism. She worked as a director of the engineering and administrative staff at a telecommunications company. After having children, she became a stay-at-home mom. When her children were older, she gained experience as a substitute teacher and a paraprofessional before returning to school to obtain her teaching degree. She received her Masters in Elementary Education and Endorsement in Special Education from National Louis University. Mrs. Held has taught in a Catholic school since 2019 at St. Dominic in Bolingbrook and is thrilled to be part of the St. Raphael community.
In her free time, Mrs. Held enjoys spending time with her husband, two daughters, and a cute little dog. She is passionate about reading, cooking, and loves to try new recipes she sees on Food Network. Mrs. Held is addicted to documentaries and television shows about history and science that she finds on Discovery and History channels. She loves to learn new things and bring them to her classroom!