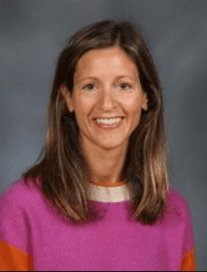 Mrs. Jane Portelli: Resource
Jane Marie Portelli graduated from Illinois State University with a BA in Elementary Education and endorsements in Reading and Middle School. Mrs. Portelli started teaching at St. Raphael School in 2010 and she has worked as a part-time Reading Teacher, Instructional Aide, and is currently part of the Resource team.
Mrs. Portelli spends her days off at home with her three children playing games, reading, cooking, and riding bikes. She enjoys being outside and especially spending her summers swimming at the pool with her 3 children. Mrs. Portelli is blessed to work with such wonderful students and teachers and loves being a part of the St. Raphael community.