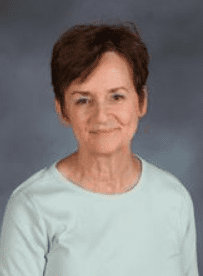 Mrs. Linda Palermini: Fourth Grade Teacher
Linda Palermini is thrilled to be part of the St. Raphael Family! She comes to us from St. Dominic Catholic School in Bolingbrook where she taught 4th grade for six years. She also taught 5th grade Social Studies during that time. Before that, she was a substitute teacher in Districts 203 and 204 for eight years. She received her Bachelor of Arts degree from Dominican University and her Masters in Education from Aurora University.
Ms. Palermini lives in Naperville and has three children. She enjoys drinking coffee, loves to read and bake. She wishes she had a green thumb and a lovely garden.