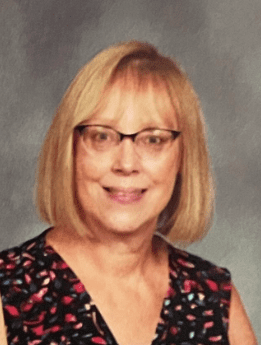 Mrs. Mary Prena: STEAM (Technology/Art) Teacher
Mary Prena is the STEAM (Science, Technology, Engineering, Arts, Mathematics) teacher at St. Raphael School and has been teaching in the Joliet Diocese for over 30 years. She received a BFA from Northern Illinois University and has taught Preschool through 8th grade in both traditional and gifted programs. After starting her own graphic arts studio, she began teaching first as an Art teacher then Media Arts, Engineering, Technology and now as a STEAM teacher. She has been awarded numerous grants that have enhanced her program throughout the years and was named the Joliet Diocese Technology Teacher of the Year in 2013.
Ms. Prena had been a foster parent for special needs children for 25 years and adopted 4 wonderful children. She also has 2 adorable dogs that she enjoys spending time with. She loves decorating, cooking and trying different restaurants. She has been with her parish for 40 years and feels that knowing, believing and living one's faith is essential in order to interweave faith into the classroom.