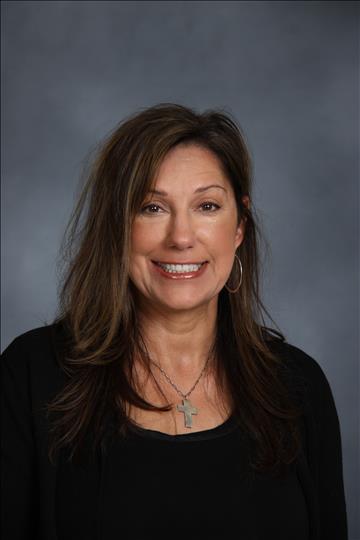 Ms. Lauri Riggen: Eighth Grade Homeroom/ELA
Ms. Lauri Riggen is the Eighth Grade Homeroom and Junior High ELA Teacher. She brings with her a host of experience. She is a graduate of Loyola University, receiving her undergraduate degree in English with a Certification in Secondary Education. She then joyfully taught English to grades 9-12 at De La Salle Institute in Chicago for seven years, including AP and ACT preparation. Ms. Riggen joined the St. Raphael faculty in 2011 as a Resource Teacher. Soon after, she began teaching Junior High ELA and Strategic Reading. Ms. Riggen also taught the St. Raphael HSPT preparation class for five years and continues to serve as co-moderator for Student Council. She is a Eucharistic minister and the Mass Coordinator for school masses. She has had the blessing of guiding the 8th graders as their Homeroom Teacher since 2016. In 2017, Ms. Riggen obtained her Masters degree in Curriculum and Instruction with a concentration in ELL from Concordia University.
Although Ms. Riggen joined the faculty in 2011, she has been a parishioner at St. Raphael for more than 20 years and was also a school parent as her children attended St. Raphael School. She remains an active member in both the church and Naperville community. When Ms. Riggen is not teaching, she enjoys spending time with her three grown children and her dogs as well as visiting her family in Louisville. She also loves cooking and entertaining for her family and friends. Crab cakes are her specialty! She is an avid reader, hiker, theater goer, traveler, and volunteer. Most recently, Ms. Riggen worked in Jamaica on a mission trip to serve impoverished people living in Jamaica. She loves being able to serve in this way.